Adopting Improv to Ace Instructional Design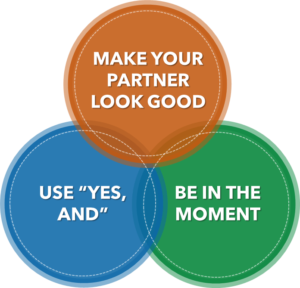 Last month, Sheree Galpert, an Applied Improv practitioner and trainer, shared fundamentals of improvisation in EnVision's blog. Sheree introduced three principles of improvisation:
Be in the moment
Use "Yes, and"
Make your partner look good
Sheree illustrated how instructional designers can leverage these techniques to be more effective in their work.
After reading Sheree's post, I was pleased to realize that a recent project of EnVision's incorporated each of the improvisation principles she shared with us last month. The project was a needs assessment and design of a management development course for a financial services client.
In our interactions with this client and others, I recognized that we do a lot of "being in the moment." Our instructional designers listen carefully to what clients say, so they can understand their needs. Only then can we make appropriate recommendations and be responsive in our work.
"Yes, and?" For the needs assessment, we initially agreed to conduct one focus group with selected client employees. The client's key stakeholder requested we run a second focus group with a different employee cohort to gain a broader sense of the organization's needs. While we agreed this was a beneficial plan we essentially added a "yes, and" to our reply. "Yes," we said, (after all, agility is one of EnVision's values.) "And this changes the scope of work for the needs assessment, so the project will take a bit longer and cost x dollars more. Does that timeline work for you?" The client was fine with it, so something tells me this improv approach is useful!
Certainly, it is part of the trainer's job to make the learner "look good," as Sheree described. In the needs assessment and design phase of this project, EnVision's instructional designers also helped the client's stakeholders to look good.
We acknowledge that the SME and other stakeholders are the content experts. EnVision's consulting expertise and the client stakeholders' content expertise complement each other. We ask targeted questions of the SME and other stakeholders and guide the instructional design process, which ultimately results in a more effective learning solution for our client's organization. Content expertise partnered with solid instructional design skills help to make our client stakeholders "look good."
As instructional designers, we think on our feet, similarly to how an improvisational artist would. These improv techniques help us to be more responsive to and collaborative with the project's stakeholders. And this furthers our relationships with our clients, which we value the most in our work.
Want to learn more about how to use Applied Improv?  The Improv Lab, run by Sheree Galpert, is open to trainers/facilitators in the Boston area on the second Saturday of every month from 2-3:30 ET. In person (outside) through summer; starting in the fall, it will be online and open to people who are anywhere! Private message Sheree via LinkedIn.
"Begin with the end in mind"?
By Sheree Galpert, guest blogger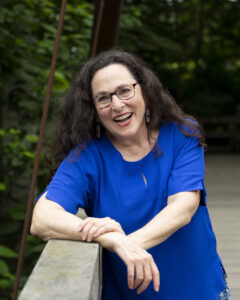 "Begin with the end in mind." That's one of the key habits laid out by Stephen R. Covey in his best-selling book The 7 Habits of Highly Effective People. For instructional designers and trainers, that's kind of a no-brainer: You have to know what you want your learners to get from your lessons before you can plan or deliver your curriculum. I'm an Applied Improv (AI) practitioner and trainer, which means that I use improvisation-based activities with my clients to develop skills, deliver content, and enhance work processes.
You might think that improvisation, which is so much about being in the moment and letting things unfold in completely unpredictable ways, wouldn't be a particularly effective methodology for a trainer. Yes, and* sometimes you'd be exactly right: If you're designing or delivering specific content that is highly technical, or if there's no room in the curriculum for individuals to engage with the content in a way that is particularly meaningful and memorable for them, then, yeah, I'd probably advise not using AI to deliver your content.
(*See what I did there? "Yes, and" is one of improv's core principles, and it means accept what has been offered and build on it.)
You'd still be well-advised, however, to use AI on yourself.
Say what?
Yes—on yourself! Stay with me on this. In addition to "yes, and," two other fundamentals of improv are "be in the moment" and "make your partner look good." In Learning and Development, your "partner" is the learner.
Think about the best trainers you've encountered. They are people who can:
meet their learners where they're at, continuously identifying what participants need ("be in the moment"),
build effectively on their questions or suggestions, resistance or confusion ("yes, and"), and
help the participants meet their learning goals ("make your partner look good").
The same goes for curriculum designers. You need to be able to:
assess how much your intended audiences know ("be in the moment"),
arrange your "building blocks" to sequence the content you're designing ("yes, and"), and
stack the deck for success—develop a curriculum that will enhance your audiences' skills, awareness, or knowledge ("make your partner look good").
So, yeah, like I said—improv.
Now back to paragraph one. As for "beginning with the end in mind" when I do AI-based training with clients, first I identify what "takeaways" I want them to have. Am I focusing on deep listening, or creating mutually supportive environments, or giving effective feedback, or dealing with ambiguity and the unknown (we've all gotten a lot of practice with that since Covid hit, right?), or something else? I also need to have a solid understanding of what kinds of learnings the different activities in my inventory can yield—what interpersonal dynamics do they tend to evoke? How might perspectives shift? What do people typically become aware of in terms of their roles on a team?
So, yeah, I absolutely begin with the end in mind: I need to know what learning I want, and choose the activities that I think will best support their experience. And then I work (more like play, actually) with my participants to ground us all in "yes, and," being in the moment, and making each other look good.
I'd like to thank Irene Stern Frielich for inviting me to be a guest blogger. Talk about amazing instructional design! She makes all her partners—and clients—look good!
Want to learn more about how to use Applied Improv?  The Improv Lab, run by Sheree Galpert, is open to trainers/facilitators in the Boston area on the second Saturday of every month from 2-3:30 ET. In person (outside) through summer; starting in the fall, it will be online and open to people who are anywhere! Private message Sheree via LinkedIn.
Networking in 2022: Making the Most of the Experience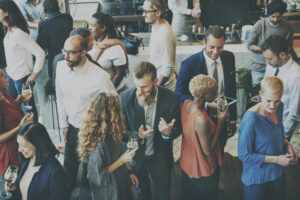 I scan the room, looking for people I know and for people I can meet for the first time. I walk up to the coffee urn, where someone I don't know just filled her cup. After extending a hand, I introduce myself and ask her what brought her here today. Soon, I excuse myself to respond to a longtime colleague who just tapped my shoulder. We exchange hugs and "how-are-you?" responses. I introduce him to my new acquaintance and share a little about each person to help build their connection.
Do you remember those pre-pandemic days of networking and connecting in person? They seemed so straightforward, events that flowed with ease.
I loved those in-person meetings, often in bustling rooms with folks packed in, unencumbered by six feet of distancing or masks covering faces or a computer screen and cyberspace in between us. Because this close-up and often tactile contact has vanished from the working world, networking has changed. While there are still many opportunities today to meet people and help each other with work needs, we can't escape the differences from the pre-pandemic world. How can we acknowledge these distinctions and make the most of them?
For me, two main differences emerged in my networking over the past two years.
First, most of our networking now occurs through our computer screens. This medium presents challenges. In a large group virtual meeting, it isn't possible to grab someone for a quick introductory chat—at the coffee urn or after the main meeting concludes. That sense of spontaneity, crucial to connecting, has vanished with handshakes.
Second, many professionals still work exclusively from home. With the elimination of "water-cooler," hallway, or coffee room chat, it is too easy to seclude ourselves in our home offices, collective noses to the computer screens, in-person connection a much less accessible experience.
Networking just feels harder to me, and I've been putting a lot of thought to my approach in this new year. Here are some things I resolve to work on.
Spreading my wings. I will continue to seek out opportunities to join virtual events in the L&D and consulting worlds. There are so many fabulous professional groups in the Boston area, and some meetings that used to be difficult for my schedule now fit in more easily since I don't need to travel to the meeting. Notably, since everything is virtual, we all can participate in events around the country or even the globe. I'm not saying I'll join every group there is—I will still select from those that provide me the most benefit—but there are more options now.
Reaching out. When in a virtual meeting with a group, if I notice someone with whom I'd like to have a longer discussion, I will message or email them to get the ball rolling, then set up a time for a separate, one-to-one conversation if it seems appropriate. It doesn't really take more time to do that than it did in person, but it does take a different way of thinking, which might feel like it requires more effort at first.
Carving out the time. It is so easy to get caught up in the day-to-day flow of work without leaving time for connection. This challenge hasn't changed all that much. To address it, I schedule a little time in my calendar each week for networking activities such as selecting, registering for, and attending events; following up with people post-event; and meeting one-to-one. I keep in mind something I learned a long time ago: Networking is one of those things to do before you need to do it. The network is invaluable when seeking information about a professional question or a job or gig lead.
As I resolve this year to make more new acquaintances and reconnect with longtime colleagues, I will continue to offer support, resources, and connection to those I meet. As I learned early in my career, networking isn't just accessing information, it is also being a reliable and trusted source for the rest of my network. A professional network can develop into a circle of advice and support, and I aim to contribute to my place in the circle.
I look forward to connecting with you in 2022. If you don't hear from me soon, I welcome your reaching out to set up a time to chat.
Crisp Air, Mexican Hot Chocolate, and an Adirondack Chair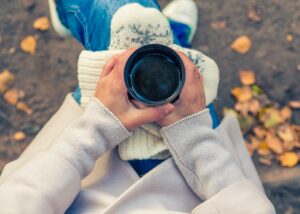 Leaves are on the verge of turning beautiful colors here in the Northeast. The evening air is crispening, and I can smell logs burning in firepits as my neighbors try to squeeze in some more cool-night outdoor time.
You know what that means…2022 is around the corner, and, for many of us, it is also time to start our strategic planning for next year. (Sorry to pull you away from the comfort of your Adirondack chair and Mexican hot cocoa, but please bear with me for a moment or two.)
You may be experienced in working with your internal clients to identify their business goals for the coming year and determining how you can support those goals. In case it is new to you, here are three phases to help you, an instructional design professional, get there:
1. Assess
Prepare questions for each of your stakeholders, starting with: What are your business goals for next year? What do you believe are your greatest challenges in achieving those goals? Why? What is needed to help remove those challenges? What if the goals are not met?
I recommend following the Performance Consulting model described in Dana Gaines Robinson's (et. al.) book of the same name. This process will help you identify performance gaps, capability needs, and appropriate solutions. Hint: not all solutions will be training! Sometimes our internal clients don't realize that, and this book can help you explain.
Another consideration during the Assess phase is the capacity of your internal instructional design group. As you move into Plan/Design, it helps to prioritize needs with your stakeholders.
2. Plan/Design
Once you have a clear understanding of the business goals and employee performance gaps, you can design, at a high level, a learning solution. That might include listing clusters of learning assets such as courses, readings, activities, performance support, or posters, each with related learning objectives and instructions on where and how learners would access them.
Ideally, you'll be Designing for Modern Learning as Crystal Kadakia and Lisa M.D. Owens describe in their book of the same name. Your internal client would approve of your recommendations and prioritization before you begin development. This book, with a "modernized" five-step learning model, can help as you make your case for what might feel like a different way of designing learning.
As part of your prioritization process, identify to your internal client where you might fall short of capacity (or even capability) to Develop and Launch according to the plans. If the need is a high enough priority, the internal client may need to budget for external support, which could include consultants, technology, or even content expertise.
3. Develop and Launch
Finally, the real fun begins! Now you can develop the learning assets themselves. While this might take most of your time during the year, it cannot be done effectively without well executed Assess and Plan/Design phases.
Hopefully, during those earlier phases of Assess and Plan/Design—the ones you started after a cool evening by your firepit sipping that Mexican hot cocoa—you will define your goals and plans so developing and launching your 2022 learning programs hits the mark with your internal client. We are happy to support you—while sipping our respective Mexican hot cocoas—as you Assess; provide creative ideas and approaches as you Plan/Design, and offer partnership solutions as you prepare to Develop.
A, B, C, or All of the Above?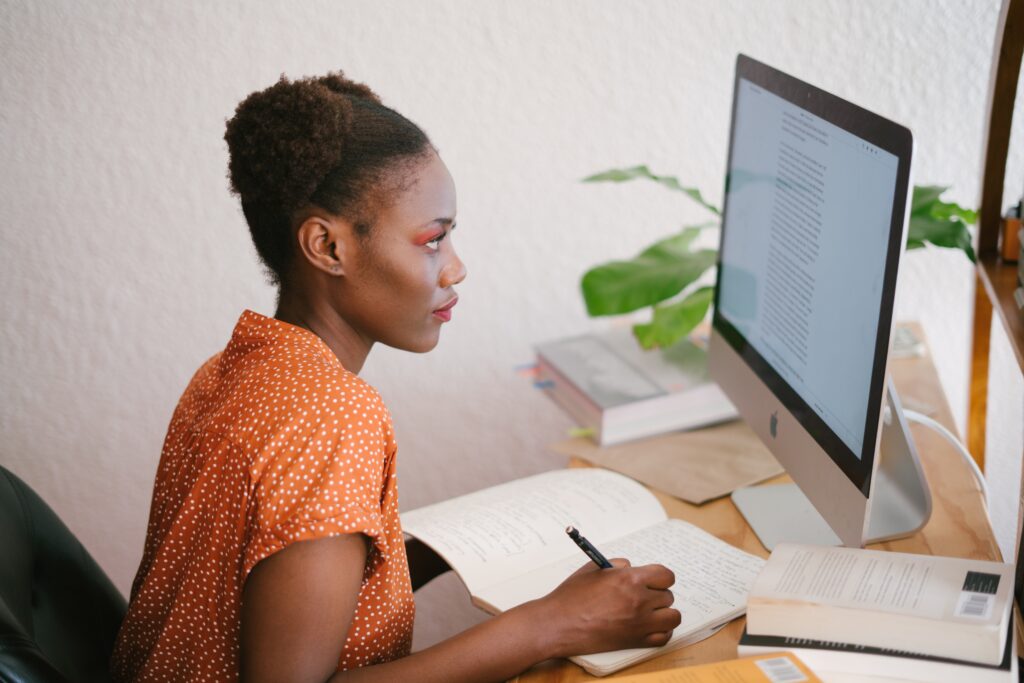 Have you ever taken a learning assessment—aka test—that was frustratingly difficult or fabulously easy? Did you get distracted taking the test, wondering, "What were they thinking?" as you tried to regurgitate trite facts or parse out a complex question and series of responses?
Early in my consulting career, I was asked to review a learning assessment written by a content expert. It was on a topic I knew very little about. I ended up passing the assessment by selecting those answers that seemed correct —without even reading the questions!
That experience set me on a path to understand what it was about so many learning assessments that made them so easy to pass. My analysis and research resulted in the creation of our Writing Effective Learning (WELTM) Assessments workshop.
In the workshop, we discuss the WHY of creating learning assessments (focusing on a learner orientation rather than simply a goal to "check the box" that a course was completed) and WHEN to create them (hint: NOT as an afterthought once the course is ready to launch).
The real not-so-secret key to success in writing learning assessments is correlating learning objectives to questions, and we spend some time on this in the workshop. A guideline we discuss is to create 2-3 test questions (items) for each learning objective. In addition, each item should support at least one learning objective. That eliminates many of the unnecessary questions that require simple regurgitation of facts to which the learner can easily look up the answer. It also makes it a little more challenging to write substantive questions.
We spend most of the workshop identifying common issues and rewriting questions. Common issues include using "all of the above" too frequently, writing responses that are more or less equal in length and level of detail, and avoiding two-option questions (think "true/false") as they promote guessing.
Once the questions are prepared, how do we know they are clear, not overly complex, and not too easy? There are many ways to "test" the test questions, including having target learners, "naïve" learners (those who are unfamiliar with the material), and content experts complete the test and provide feedback to the test designers.
Once the course is launched with its learning assessment, do we simply provide the learner with a pass or fail score—and if it is a fail, require retake until the learner passes? Or, do we conduct an item analysis to identify any items that are commonly answered incorrectly, then correct the item or the training?
I'd like to propose that, over the next few weeks, you review your learning assessment strategy, prepare a plan to create more robust tests that are aligned with the learning objectives, and find various ways to "test the test." I'd be happy to weigh in if you'd like to brainstorm some ideas together.
Supporting SMEs—with Pizza: Professional Development Offering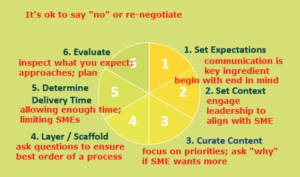 In April, I enjoyed facilitating a virtual event for the Hawkeye (Iowa) Chapter of ATD. The topic was titled "Supporting SMEs—with Pizza" and trust me, pizza always gets folks' attention! We started out voting on our favorite-looking pie from among four images. The losing choices were either too rich (appeared too difficult to digest), too visually unappealing and with unappealing ingredients (hard to stay engaged), or not enough meat (why bother?!). I carried the metaphor through the session as I shared six slices of the pie, or six practices for partnering effectively with your SME.
Here are the six practices we discussed, with a short description of each:
Set Expectations early and often: Communicate the time, content, and other resources needed and on what schedule. Review and agree on learning objectives, the target audience, and definition of success for the learning solution.
Set Context: Together with your SME, strive for clarity around how the topic correlates with the target audience's job and what challenges the audience faces, as well as the knowledge and skills they need before learning about the given topic.
Guide your SME in how to Curate Content: Keep the learning objectives front and center and keep asking the question, "Is that 'must have' or 'nice to have?' If it is not 'must have' but is still important, can it be provided as a reference?
Scaffold content in a logical manner: Discuss missing steps, content "holes," and how each topic is related to the next.
Determine delivery time: Instructional designers are the experts in identifying the best learning modality for a given situation and estimating the necessary learning time. Provide the SME with realistic time estimates and explanations about why 2 hours-worth of course content cannot be learned in 15 minutes. Or why an 8-hour elearning course may not have the desired effect.
Evaluate effectiveness of the learning experience. Of course, you'll create the evaluation plans in partnership with the SME from the start of the project with questions such as "What does success look like?" and "What are the problems you are seeing and how do you know?" and "What measures are already in place?"
The group came away with many useful tips – and having regular and clear communication was the primary one! Asking a lot of questions was another, including questions about why the SME wants certain content included, questions about the best order of a process, and questions about what success looks like. One useful pointer was remembering that it's sometimes ok and appropriate to say "no" and re-negotiate.
If you are interested in a professional development mini-workshop on this topic or others for your organization, please contact Irene Stern Frielich.
Fun Times: Engagement in the Virtual Classroom
Ginny Maglio and I just completed our third round of EnVisioning Virtually: Creating Engaging Courses in the Virtual Environment this month. During the five-session Zoom series we share tons of tips, guide the participants during demo activities as they try out new approaches, and get to try out some different techniques ourselves.
This past year, we've observed that virtual participants consistently love using the annotate tool. In case you haven't had the pleasure of using it yet, this tool allows you to annotate on a whiteboard or any shared screen by typing text, drawing lines, and placing "stamps" such as stars, arrows, or hearts.
In our final session, we prepared two pages of ideas for engaging virtual learners. Below are a few of our favorite activities that feature the annotate tool.
Map Ice Breaker
Display a map covering the geography of your learners. Instruct learners to place a stamp near where they are participating from. This is a nice way to get started in a course and is a great activity for introducing use of the annotation tool.
Getting to Know Your Learners
Display an image, such as a continuum or a graph, with labels. Post a question and instruct learners to use the stamp tool to mark the location on the image that best aligns with their views or feelings related to the question. For example, for the question, "How many times have you interviewed people for an open position?" create a horizontal bar on the slide and label one end "Never" and the other end "More than 10." Even better, label a few points in between "1-2," "3-5," "6-10," and ">10." (For very large groups, consider using polling functionality instead.)
Matching
Prepare a slide with a list of words on the left and associations on the right. For example, list new terms on the left and related definitions on the right. Ask learners to draw a line from the term to its definition using the draw tool. Then you can review the responses, reinforcing what is correct and discussing what is incorrect. Depending on the number of learners, you might assign each person or pair one term. You can do something similar with an image (a piece of machinery) on the left and labels related to parts of the image on the right. (Best for smaller groups.)
Brainstorm
Post a brainstorm prompt on a whiteboard or otherwise blank slide. Instruct learners to use the text tool to write their response. As the host, you can select and move the responses around, allowing you to ensure people don't write over each other. You can even group responses into affinity groups and create a new text box to label the group, then use the draw tool to circle each affinity group. Don't forget to save the annotated image before clearing it!
Voting
As an alternative to using the poll functionality, prepare a slide with items—words or phrases—you wish the learners to vote on. Instruct them to use the stamp tool to indicate their vote(s). To mix things up a bit, have them "heart" the item they like the most and "X" the item they like the least. For example, post the question "Place a star next to the item with highest pH, and an arrow next to the item with the lowest pH" and show images of lemons, coffee, bleach, and milk. You will quickly see what your learners already think, believe, or know.
Recap Round Robin
Display a slide with the learner's names or headshots with space next to each. Ask them to use annotation to write one thing they took away from the class, one thing that surprised them, or one new thing they are going to try in the next week. Summarize responses, then save the slide and share it with learners after the class. Optionally, display the completed image at the start of the following session.
Try out something new to enliven your learning! We'd love to hear from you – if you have an activity that works really well for you, please email us and we will highlight you and your activity in our next post.
Building a Path to Bravery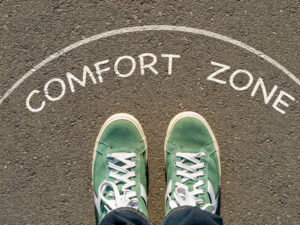 I was honored recently to have been interviewed by Ed Evarts about bravery in the workplace. Ed is a leadership coach, podcast coach, and author who helps successful leaders raise their visibility and value at their organizations.
The topic hit home for me. Bravery, including professional courage, has resonated over the past year for us more than ever, so it seems a fitting subject for a blog post at this moment.
Is bravery a choice? This question has always intrigued me. Sometimes we choose to be brave, but more often we are thrust into a situation in which we need to access the bravery we already have within us.
I believe that bravery can't always be instantly achieved; rather, there's often a journey we take to growing brave. During the podcast, Ed asked me about three words or phrases that come to mind when I think about bravery. Here's what I shared:
Presence and engagement: interacting with others and showing empathy for their struggles, which helps build trust
Resilience: demonstrating flexibility, plus having a willingness to shift and question assumptions
Possibility: exploring fully the good the future can bring
I've learned that these characteristics are linked to authenticity. To be brave, it helps to be authentic, and I've found I've needed to summon my bravery when I've been asked to do something that deviates from my core self and values.
A specific situation comes to mind when I think about how I've faced a test of my courage. My team and I once worked with a client who placed her designee in charge of our project. After some time working together, it grew clear to me that my team and I would not be able to work with this individual and still succeed in the project. I felt this in my gut.
My discovery led to a difficult conversation with the client, in which I tactfully described that I didn't think the project could continue in its current framework. When the client responded, I really needed to exhibit presence and engagement by understanding and empathizing with her point of view.
It turned out the client had also experienced differences with her designee. So, together we explored possibilities as we changed to a working model in which the client would manage the situation internally, and my team would work with the ultimate stakeholders. For both the client and me, this new communication plan became a win-win.
Courage helped to build trust with my client, as the relationship deepened when I was brave enough to be forthright. It also preserved the trust of my team, whose success would have been compromised had I not stepped forward.
Consider a recent challenge you've faced. Perhaps some of these lessons I've learned to help find a path to bravery can help you, too:
Sit with the challenge that requires bravery and feel it, even though that's hard.
Talk with a trusted colleague or friend (or more than one). Often, it really helps!
Be open to adapting in the challenging situation; it will likely be necessary.
Welcome ideas and suggestions from others; you might not implement them, but they very likely could spark ideas of your own.
As our workplace continues to evolve in the coming years, may you experience all the rewards being brave can bring.
I invite you to subscribe to Ed's podcast Be Brave at Work to hear more about other's bravery stories.
Getting Invited to the Table: 3 Tips to Make it Happen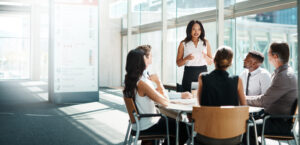 Have you ever been in a situation like one of these, experienced by two different colleagues of mine:
An IT group decided to upgrade a systems application and proceeded with the project. Dozens of elearning courses had already been developed for the legacy system. The L&D team was not included in the conversation about the upgrade but received direction to update all courses near the end of the conversion project, and was given a very tight deadline.
A subject matter expert taught new employees how to perform a process during on-the-job training. There were no job aids or checklists, and the SME was frustrated that the learners' error rate was so high.
These issues resulted in unnecessary costs of dollars and time. It shouldn't be a surprise that having an L&D leader at the table in business line decisions can not only be helpful, but also can make all the difference in preparing employees to perform effectively.
I was a panelist in a recent meeting of our local ATD Measurement & Evaluation special interest group. The conversation focused on using data with stakeholders. For example, how do we present findings and get on their agenda in the first place?
One of the takeaways from the panel was that you shouldn't expect to just get invited to these stakeholder meetings. It takes a while to earn a seat at the table. So, what are some ways you can do that – whether it's about discussing measurement and evaluation or what training is needed? Here are some ways that I've been successful.
1.  Plan for the year (a.k.a. start of a needs assessment): When I was a training manager, I had responsibility for multiple lines of business. I scheduled meetings with each business head my team supported. My goal was to document their business objectives for the coming year (or next few months) and identify where they felt the employees in their group might be challenged in working toward those goals. I dug deeper into these performance gaps and identified additional managers to speak with to determine where training might help close the gaps. One of my favorite references about this process is the Robinsons' book (see resources below).
The key to being invited back is building the relationship. In these meetings, I am letting my stakeholder know that I care about and understand their business (because I'll have researched it first if I needed to), that I want to help make a positive impact on achieving their goals, and I am a partner.
Business goal-setting and budget-planning often start in the fall. In what ways can you engage with your stakeholders now as they plan?
2.  Nurture the relationship: A couple of meetings a year doesn't grow a relationship. Regular consultative contact can. What is important to the leader with whom you are meeting? What actions are you taking to help them achieve their business goals? What roadblocks do you anticipate in promoting a performance or learning strategy to support the goals? How are you striving to overcome those roadblocks, and what can your stakeholder do to help you? Eventually, once the learning strategy is implemented, you'll have data to share with your stakeholder.
What are two things you can do this week to reach out to a couple of stakeholders? How can you help them?
3.  Focus on building trust: While this is part of nurturing the relationship, it is worth singling out. David Maister, et. al., include a table in their book The Trusted Advisor that illustrates how crucial trust is. The table lists levels of a relationship from service-based (answering questions, providing information) to trust-based (focusing on the client as an individual, having the ability to influence). While that last level will take a while to work towards, the levels in between these might be realistic as you continue to build trust. Those are needs-based (you help solve problems, provide solutions) and relationship-based (you provide insights and ideas). Identifying ways to focus on solving problems with or for your stakeholders will help you build the relationship to the point that they will seek you out when their decisions may impact employee performance.
What level are you at in your relationship with a stakeholder? What are two things you can do in the next month to move up to the next level with one of your stakeholders?
Resources:
Dana Gaines Robins and James C. Robinson, et. al. (2015). Performance Consulting: A Strategic Process to Improve, Measure, and Sustain Organizational Results. Berrett-Koehler Publisher, Inc.
David H. Maister, et. al. (2000). The Trusted Advisor. Free Press.
Babbling Away: How Proven Instructional Design Techniques Helped Me Learn German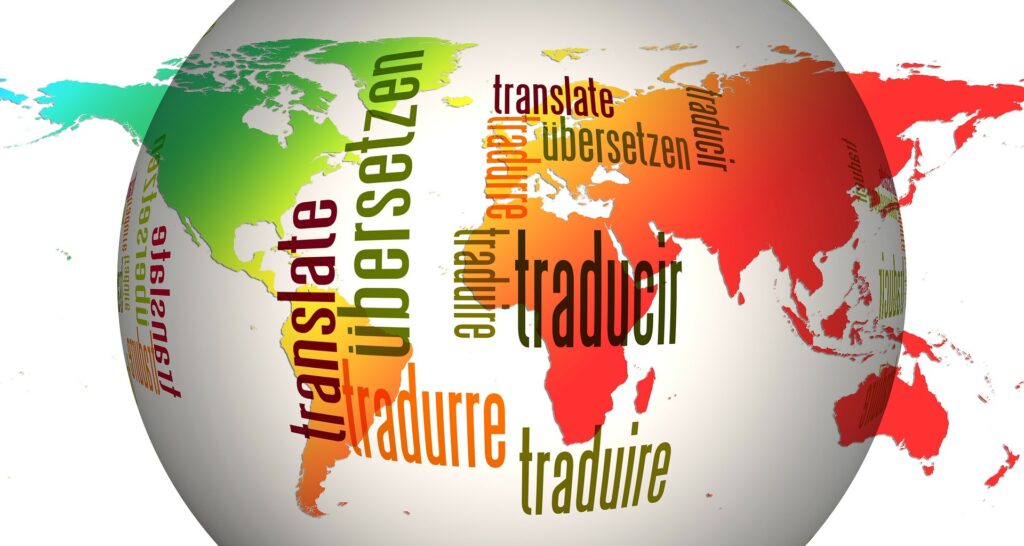 It's cool when you can see an application of the work you do when you are the consumer (or, as it were, the learner). Here's my story. In preparing for my trip to Germany last year, I decided to learn a little German. I like to be able to use some basic phrases when visiting other countries, so at least I can show that I've made an effort. My son makes fun of me, saying I know a lot of languages at a 2nd grade level. Actually, it's more accurate to say at a 2-year old level. But I digress.
I had used CDs in the past, where the narrator says phrases and you repeat them. The approach these CDs use is limited, with whatever you repeat back not checked by anyone (or any app). So, I decided to try a particular app I had heard advertised. They provide a series of "courses" and "lessons" and, within each lesson, 15-20 short topics. What's so special about that, you may wonder? Well, it turns out I learned much more quickly and effectively than with the CD program. Here are some of the techniques used in the app that instructional designers also use to the benefit of their learners:
Scaffolding
Topics and lessons build. For example, the app provides four words at a time, each said aloud and requiring the learner to say it back (with feedback if the pronunciation isn't quite right). Next, the learner identifies which translation goes with the German word. Then the learner types the word. More words, grammar rules, or phrases are taught similarly.
I was so pleased to realize that, when I thought I forgot a previously learned word, the approach planted the word into my brain in a place from which I could retrieve it. I was able to remember the word with just a little effort.
Spaced repetition and reviews
The scaffolding example above is great, but if the app never returned to the words or grammar rules, I'd likely forget them. So, throughout a lesson I am required to recall words and rules I learned a few topics ago and use those words and rules in slightly different ways. There are reviews after every couple of lessons that consolidate the learning.
Practical application
Learning words and rules doesn't do much on its own – except maybe allow me to decipher something I see in writing. But throughout each lesson there is a sample conversation, based on realistic situations I might be in. For example, there is a conversation with the hotel manager about the room. So, now I can see how the words and rules I've learned can get used in a practical way. I am required to type the answers and listen to the conversation. I also repeat each part of the conversation so I am more comfortable being involved in it.
The goal of any course is to give learners the ability to do something with what they've learned. That measurable action could include listing ingredients in a quiche, explaining steps in a process, applying sales techniques, or creating a new approach to solving a problem. While these goals are reflected in the learning objectives, the learners should also be given the opportunity during the learning to actually do these things.
Testing/feedback
The app provides feedback throughout the course. While there's no official "test" there are opportunities to test myself, receive feedback about the correct answers, and retake the lesson if needed.
Without feedback, how would I know I actually learned? Whether through a formal, scored final exam or unscored, check-your-knowledge, quiz-type questions interspersed throughout a course, it's best to have an opportunity to recall what I learned, and receive feedback.  This testing/feedback approach is one way to help me remember.
Learner choice and self-direction
Skipping lessons early on might not have benefitted me. However, once I got a few lessons under my belt I could select from a long list of specialized grammar and vocabulary lessons. For example, there is a lesson just on pronouns. That was a great review for me, as I found them a little overwhelming to remember. Another lesson is on names of foods. That came in handy so I didn't need to look up every word on a German menu! If I were forced to complete the courses in order, I would have spent time learning things I would never need to know. Instead, I could move through some things quickly, jump ahead, or skip around as worked best for my needs.
Learning is most effective when the learner chooses to learn. Sometimes that's not practical as in the case of compliance training, for example. But providing learning activities "just in time" helps learners find the information they are interested in, when they want it. A classroom course does not provide this. But job aids, performance support tools, and well-constructed elearning courses like my app can meet this need.
As instructional designers, it's important for us to use techniques and tools that enable learners to apply their knowledge immediately. With scaffolding, spaced repetition and reviews, practical application, and self-direction, learners successfully gain new knowledge — even a new language like German.