Team Learning Opens Minds — and Office Doors
Too often, we go through our workdays head down, nose to the grindstone, and office door shut (or cubicle door metaphorically so). A coworker may need help with something, but we get lost in a deadline, meeting prep, client appointment and are oblivious. Perhaps once in a while, we stop to touch base with our colleagues. Yet in this electronic age, so much of our networking gets done online, rather than face-to-face. And our coworker still has her question that never gets answered.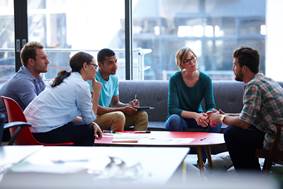 At EnVision, we value teamwork, communication, and the figurative open office doors very highly.  The "EnVisioning our Future" (EOF) sessions we offer are natural extensions of this philosophy.
Twice each year, we hold a day-long EOF for the EnVision team.  The subject matter runs the gamut from a new business book's theory to examples of elearning . Our most recent EOF focused on software application tips and shortcuts. The day always provides a great opportunity to learn from and help each other.
At our "Sharing Application Tips" EOF, several EnVision members presented all kinds of software tips — from embedding objects in a PowerPoint slide to assessing our document's reading level — all designed to help each of us be more productive and efficient. As each team member presented her software tips, those tips were enthusiastically appreciated by the team.
"Sometimes, the simplest things make a huge difference in the way we work," said Ginny Maglio, an EnVision team member. "The EOF professional development day validates that we never stop learning and can always learn from each other."
At this EOF, as with past sessions, our team members realized three benefits beyond the subject matter knowledge they acquired.  Team sessions, like our EOF days, can empower your team members to:
1. Help each other while also gaining knowledge in another area. In our recent EOF, one team member demonstrated how to create an info graphic using PowerPoint, while another showed us how to create a table of contents in Word.
2. Learn about—and from—other team members' projects. Because we each work independently or in small teams, we may not know about other team members' projects and competencies. The EOF sessions introduce team members to each other's skills and capabilities, and also show participants how different parts of the organization work to achieve clients' objectives.
3. Grow relationships with each other. Networking, sharing ideas, and just plain "kicking back" with your coworkers facilitates bonding, making you more comfortable in your role and more likely to approach a coworker with a question. And who knows? You may make a new friend out of it, too.
So, in the rush to meet deadlines, don't forget to hold regular learning sessions. This results in not only a better-informed team, but also a collaborative, harmonious one.