Evaluate an existing course to identify improvements to instructional design.
Are you upgrading or updating an existing course, and want to ensure it really helps improve learners' performance? We guide you through the process using our unique 85-point checklist.
Course Audit Benefits
Improved learning solutions: Our detailed analysis culminates in a report listing effective design techniques employed and prioritized recommendations for making the training even better.
Value: Our prioritization approach allows you to focus time making updates in the areas that will have greatest impact.
Holistic: Our 85-point checklist covers 15 areas to ensure you get a thorough, holistic set of recommendations.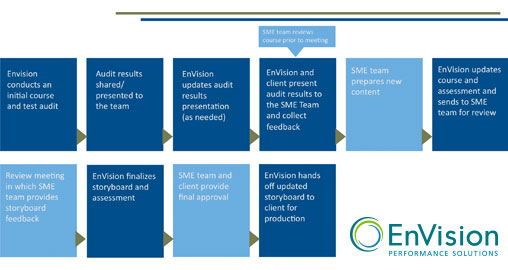 This is a seminal document. The best work ever done by an outside consultant for MSH.
— Judith Seltzer, Director, Technical Strategy, Center for Leadership and Management, Management Sciences for Health
Irene did a complete review of the program and provided a great deal of insight and high-impact recommendations. Her work was thorough, clear, and made a big difference in the overall quality of the program. Because of her work we were able to launch the elearning with confidence.
— Susan LaPlante-Dube, Inbound Marketer
Course Audit Includes:
Based on EnVision's proprietary 85-point checklist, course audit reports include specific recommendations to improve learner engagement and retention. We prioritize the results in our analysis which covers 15 areas including:

Overall design and planning
Learning objectives
Course flow
On-the-job performance support
Activities
Learner materials
Assessments and evaluations

Course audits are available for instructor-led and elearning programs.
You can make the updates based on the report, or we can do that for you.