High-impact performance and learning strategy recommendations for achieving your business goals.
Struggling to move the needle to meet your business goals? Our comprehensive analysis approach results in recommended training and other activities that ultimately can improve employee's performance.
Organizational Needs Analysis Benefits
Enhance employee performance to support your new or transforming organization: Our recommendations focus on closing the gap between performance requirements and current state.
Holistic: Focus on training as well as other changes such as workflow, workspace setup, hiring practices, or supervisory approaches.
Flexible approach to collecting data: We work with you to determine the best mix of surveys, interviews, and focus groups to help us collect the most useful information in the least amount of time.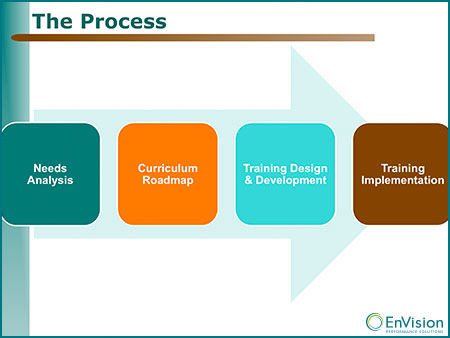 It was a pleasure working with EnVision to serve one of our national clients. We were particularly impressed with [their] thoroughness in conducting an organizational needs analysis and preparing a detailed curriculum recommendation, the inclusion of performance improvement recommendations outside the scope of training, and our ability to work collaboratively with [the EnVision] team.
— Ellen Cooperperson, CEO-Corporate Performance Consultants, Inc. &
President-CPC Family Business Division
Organizational Needs Analysis Includes:
Interview and focus group protocols and surveys.
Performance improvement recommendations document.
Design document or curriculum roadmap.
No tags for this post.