One-on-one mentoring offers the opportunity to address specific gaps in instructional design or project management skills.
Ideal way to help your instructional designers seeking to build their capabilities in a focused and individualized way.
Benefits of EnVision Mentoring
Tailored to the individual's specific needs, enabling them to immediately apply what they are learning in their work.
Flexible approach: Meetings can be virtual or in person and a mutually agreeable schedule.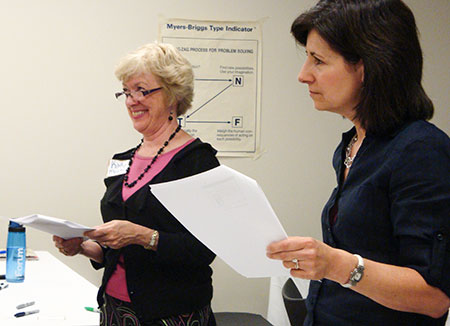 I so appreciate the breadth, depth and generosity of [EnVision's] knowledge, that I've also used them, very successfully, to mentor a new hire in my organization…Best professional development money I've ever spent!
— Kris Evans Paull, Training & Communications Manager Environmental Health and Safety Takeda Pharmaceuticals International Co.
I was recently promoted to…do project management for my office…She gave me step by step guidance…to help me and my colleagues manage big and small projects. Irene's professionalism made working with her a good experience, but her encouragement, enthusiasm and passion for what she does, made it an amazing experience.
— Anelie Pierre, Coordinator, Training & Events Office of Public Health Preparedness DelValle Institute for Emergency Preparedness Boston Public Health Commission • Boston Emergency Medical Services
Specifics:
During individual sessions, the instructional designer works on a current project, learning practical approaches to enhance their instructional design or project management skills – all founded in current best practices and learning theory. Topics covered often include defining the audience business goal, writing learning objectives, aligning activities and test questions with the learning objectives, creating lessons based on instructional design best practices, preparing and managing project plans, and managing subject matter expert and stakeholder relationships.
No tags for this post.