Manage your budget and still develop effective and engaging training.
This innovative, maximum-value service reduces vendor costs and helps speed up the SME design process. Our BRIDGE Solution® supports your SME as they Build Rapid Instructional Design Guided by EnVision's experts.
BRIDGE Solution® Benefits
Value: We provide guidance to your SME, saving you money and supporting your development of effective and engaging training.
Reduced time to delivery: With your dedicated SME, the training can be built rapidly.
Increased SME buy-in and capability: Guidance by EnVision's experts enhances your SME's skills.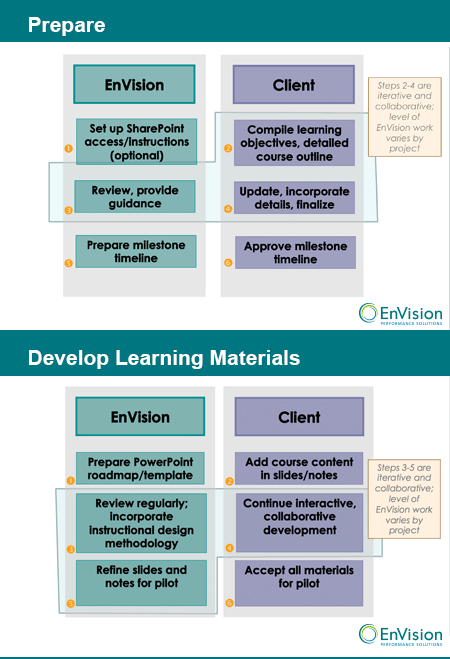 Our partnership with EnVision enabled us to achieve our vision of creating a cutting-edge, exciting new elearning series on unconscious bias…Their ideas, enthusiasm, expertise in curriculum development, and attention to detail helped us create an award winning product.
— Shilpa Pherwani, Principal/CEO, IBIS Consulting Group
Our EnVision consultant's ability to connect with the subject matter, and her flexibility around our timeline was phenomenal. This was a very challenging project with two holidays and SMEs in 3 countries. She was able to keep us focused and on track and willing to make changes and adjustments as we moved forward.
— Michelle Ridgley, Learning & Development Manager, Medtronic Cardiovascular
BRIDGE Solution® Includes:
Curriculum roadmap.
PowerPoint frame.
Instructional design reviews and recommendations aimed at increasing target audience learning.
Slide and handout formatting.
No tags for this post.