VIRTUAL LEARNING IS HERE TO STAY!
Learn how to convert or create effective and engaging courses in a virtual environment and practice facilitating during the workshop series.
JOIN US every other week for 5 (or 6) sessions in this safe virtual setting to learn, practice, and receive feedback from instructors and a small community of like-minded peers
PARTICIPATE ACTIVELY in a series of 1½-hour sessions and deepen your skills by completing the assignments
LEAVE WITH practical tools, guides, and templates to jumpstart your course development
This series is for you if you are:
An instructional designer converting or creating courses in a virtual environment
A trainer or facilitator seeking to build and practice your virtual facilitation skills
By the end of the series, you will be able to:
Identify significant differences and leverage similarities in designing and delivering onsite vs virtual classes
Create activities that engage learners in the Zoom virtual environment (NOTE: while we will use Zoom, many tools have similar functionality)
Document detailed activity notes in a Facilitator Guide
Facilitate or "produce" at least one activity and receive feedback
Critique your set design and lighting and create an action plan to make improvements
View the program overview and details
We offer open enrollment and intact workgroup options.
Fee: $695 per person, with available discounts for 3 or more individuals from one organization
For additional details about an upcoming series or to schedule a series for your group, email solutions@envision-performance.com.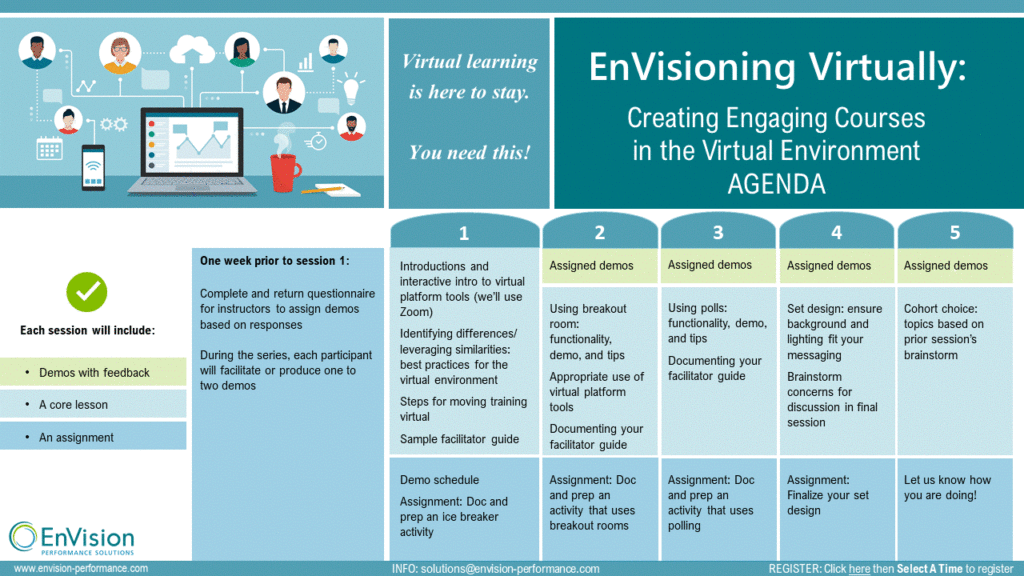 Quotes from workshop evaluations:
I personally feel better equipped to take on the unique challenges of virtual content delivery within my organization.  – Sean Riffenburg, Textron
The EnVision team provided a perfect combination of business knowledge and instructional design expertise…I especially enjoyed learning about how to foster interaction and learning in breakout groups. – Tom Atkinson, Ph.D., Atkinson Analytics
The ability to share ideas and, more importantly, practice techniques, has been invaluable. – Melissa Christenson, CTR
Facilitators Irene Stern Frielich and Virginia Maglio each have over 25 years' experience creating and facilitating engaging training programs on a wide range of topics, from supervisory and management training, communication skills, customer service, train-the-trainer, presentation skills, compliance, safety, and other professional and technical skills. Irene is president of the award-winning instructional design firm, EnVision Performance Solutions, and Virginia is a lead consultant with a certification in facilitating virtual training.
No tags for this post.