Client's Business Need
Government regulations require pharmaceutical and other life sciences companies to ensure organization-wide compliance with federal and related corporate standards. Our global pharmaceutical client, Inventigene* has dozens of global standards and procedures and had a very small training staff to create and deliver training. Initially, Inventigene was unable to host courses in their Learning Management System (LMS), and once their LMS was fully functional they would need their elearning to keep up with the functionality. Inventigene engaged EnVision to develop a low-cost elearning solution that would result in effective learning while meeting their business needs and changing technology capabilities.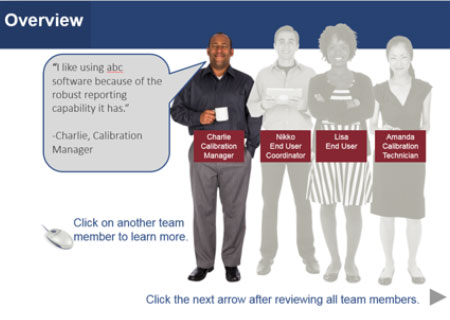 Our Learning Solution
EnVision recommended PowerPoint as the medium of choice, pushing the software to the limits of its capabilities. We incorporated scenarios and stories to bring the content "to life" and make it relatable for the learners. Animation, triggers, and hyperlinks aided in making the potentially dry compliance material engaging. Since audio wasn't an option for this client, EnVision's scenarios and stories incorporated images of people "speaking" with word balloons.
This PowerPoint also enabled learners to check their knowledge throughout the course. The participants were prompted to select an answer from among several choices and they received feedback about their response. At the end of the course, learners clicked on a link that brought them to a course learning assessment. Their final test results were tracked, and a passing score was required for course credit.
To date, EnVision has produced over 50 PowerPoint-based self-paced courses for Inventigene that are used throughout the region.
*Confidentiality requires fictional name of client company
No tags for this post.