Client's Business Need
Having developed and delivered training for their clients on a number of technical topics, our client—a consulting firm specializing in technical content expertise—recognized the need to streamline the training and to make it more engaging and effective. They were interested in updating course materials themselves, but wanted expert instructional design consultation on where to focus their efforts.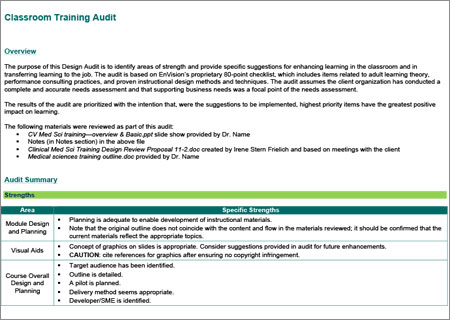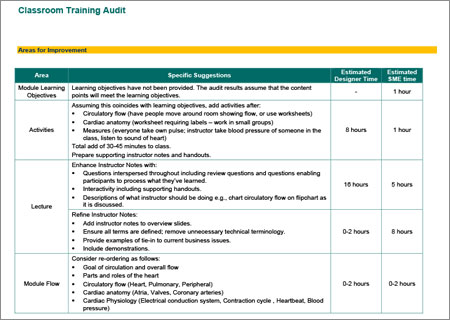 Our Learning Solution
EnVision conducted its course audit, one in a suite of services designed to build organizational self-reliance, for each of three courses. To gather information for the audit, EnVision reviewed PowerPoint slides, instructor notes, case studies and other learner materials, course evaluations, and post-class survey results. We also conducted interviews with course developers and instructors.
Based on our proprietary 85-point checklist that covers 15 areas such as course flow, engagement of learners, and learning assessment, we provided a report that detailed course strengths and specific, page-by-page suggestions to enhance the courses. We prioritized the suggestions to allow the client to focus on the changes with highest impact first. For example, EnVision suggested to the client that the course's learning objectives support business needs. We provided direction on how to write course objectives and support each learning objective in class. We also provided guidance on focusing course content and engaging learners.
Improved Employee Performance
The client chose to implement the recommended changes and reported being very pleased with the results of the updated courses.
No tags for this post.