Client's Business Need
Management Sciences for Health (MSH) is a nonprofit international health organization comprised of more than 2,000 people from 73 nations. MSH wanted to develop an online course that would leverage content on coaching skills from their popular eManager publication. The course would be targeted both internally to MSH staff and externally to clients and partners.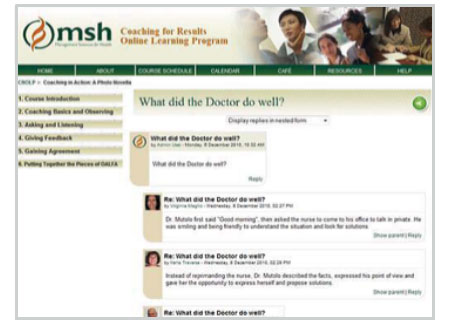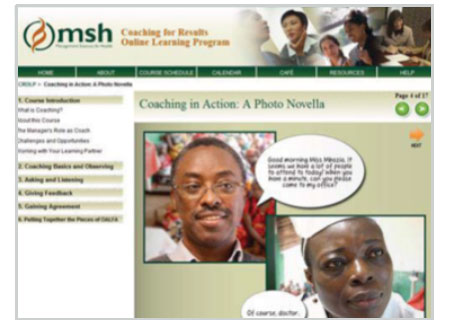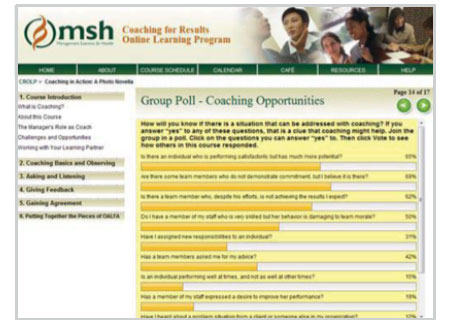 Our Learning Solution
Along with a strategic online production partner, Illumina Interactive, and in partnership with MSH, EnVision developed a highly interactive web-based course of six modules. The course introduces the value of coaching and instructs learners how to identify and use each of five steps in MSH's coaching model. Our custom-developed Moodle-based solution included the following:
Integration of effective learning principles into an asynchronous moderated online course
Augmentation of existing content to demonstrate effective and ineffective coaching skills
An engaging, user-friendly learning environment
The resulting integrated learning experience includes the following types of learner activities:
Dramatic "photo novellas" with a cast of characters and realistic coaching scenarios
Discussion forums to engage learners, providing opportunities to process what they've learned
Surveys to assess learners' perceived skill levels before and after the course
Live interactive polls so learners can gauge their experiences with those of their peers
Learning partners with whom participants can discuss specific workplace challenges and practice skills being taught
Planning skills to provide structure to learners in their application of the content
EnVision developed a comprehensive Facilitator's Guide to aid the Course Moderator in promoting discussions, identifying appropriate responses, and guiding learners through the course experience.
Outcomes
We were named as winners in the LINGOs 2011 eLearning Global Giveback Competition, corporate developer category.
"Working with EnVision and Illumina was a dream come true. They were flexible, innovative, and moved the project forward despite many challenges. We're very excited about rolling out this innovative, Moodle-based course to our staff and clients, and look forward to working with EnVision and Illumina again very soon."
—Jude Griffin Team Leader, Knowledge Exchange Management Sciences for Health
No tags for this post.