Client's Business Need
Our banking client consolidated its regional call centers into one centralized location while hiring new representatives. They needed a new-hire curriculum, leveraging legacy training materials when possible, that ensured new hires would provide excellent service to their private banking customers.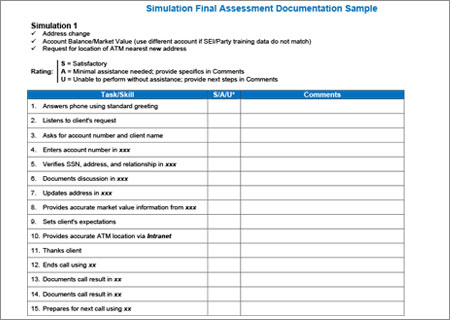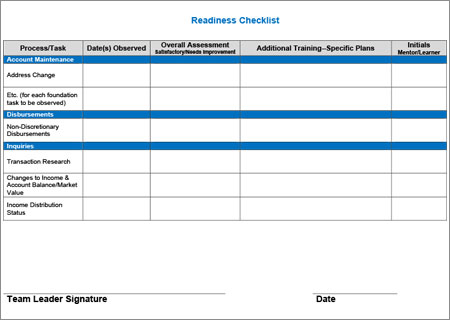 Our Learning Solution
EnVision was engaged to design and manage development of the three-week curriculum. As part of the comprehensive series of modules on customer service, policies and procedures, products, and systems applications, we developed and integrated a robust assessment plan to ensure new hires would meet the client's high standards for customer service.
Our solution included the following evaluation-related services and deliverables:
Course evaluations measured learner reaction to each module and the curriculum overall.
Learning assessments tested acquired knowledge; a passing score was required to receive credit.
Simulation-based assessments integrated testing customer service; policy, procedure, and product knowledge; and systems use in a realistic, scripted set of scenarios. A roadmap and scoring rubric assured consistent and objective scoring.
On-the-job certification checklists were prioritized by task frequency. Learners were required to observe each task and then perform it successfully under a supervisor's observation. Completion of the high-frequency task checklist was required before new hires could take calls independently.
Improved Employee Performance
The client was able to complete hiring for the centralized call center and phase out the regional centers. The enhanced curriculum and assessment plan ensured new hires had the level of skill required by the client for serving its customers.
No tags for this post.