Client's Business Need
Unintentional overdose is the leading cause of preventable injury death in Massachusetts. Fatal and non-fatal overdoses are occurring in a variety of public settings, from restrooms to alleys to dressing rooms. While traditional first responders – fire fighters, police, and emergency medical services – are highly trained and equipped to deal with an overdose, bystanders may or may not be. But often these bystanders could respond at the scene first, and in the face of an overdose, every second counts.
In an effort to deliver trainings to a wide variety of audiences who may be at risk of witnessing an overdose, EnVision's client, the Boston Public Health Commission (BPHC), utilizes a comprehensive effort that includes data surveillance, community outreach, and in-person and online training resources.
BPHC needed to include basic information in its training resources to equip bystanders on overdose recognition and response. The agency engaged EnVision to help them create an elearning course on this topic.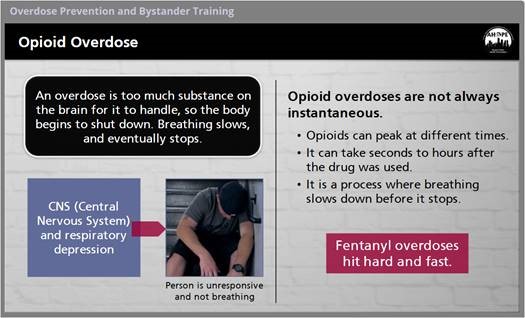 Our Learning Solution
EnVision helped BPHC create the online Opioid Overdose Prevention and Bystander Training, which provides information about the opioid epidemic in Boston and Massachusetts and how to recognize and respond to an opioid overdose. It includes practical, step-by-step guidance for performing rescue breathing and administering naloxone. This course is relevant for individuals as well as businesses, treatment programs, and other social service agencies as a tool for opioid prevention and emergency preparedness.
EnVision used a combination of explanation—audio narration complemented by on-screen text and images, with links for learners to delve further—and a scenario presented by a subject matter expert in a series of short videos to underscore core content and demonstrate steps to follow when someone overdoses. One video demonstrates the steps a bystander should take when encountering someone overdosing.
Outcome
To date, the course has attracted participants from a variety of disciplines including nurses, students, emergency service workers (police, fire, EMS), security teams, social workers, and case managers. Participant feedback demonstrates the value in the concise and easy-to-use nature of the learning experience. Many report that they enjoyed the videos and visual learning most and that the course provides a lot of important information without being too dense.
The majority of participants (97.2%) rate their knowledge of overdose prevention as advanced following the course, and even more (98.6%) indicate that they found the education activity highly valuable. When asked what steps they would take following the course, a number of participants indicate that they are going to access naloxone at the pharmacy and tell others to do the same.
EnVision and BPHC/AHOPE were honored with Brandon Hall's Award in the category of Best Advance in Custom Content.
Contact us if you are interested in accessing this course or learning more about our award-winning instructional design services.
No tags for this post.