Client's Business Need
Our client implemented a new talent management process and, at the same time, rolled out their new talent management software system. They needed to communicate the new process to all employees and provide skill building for the new system to all managers and employees.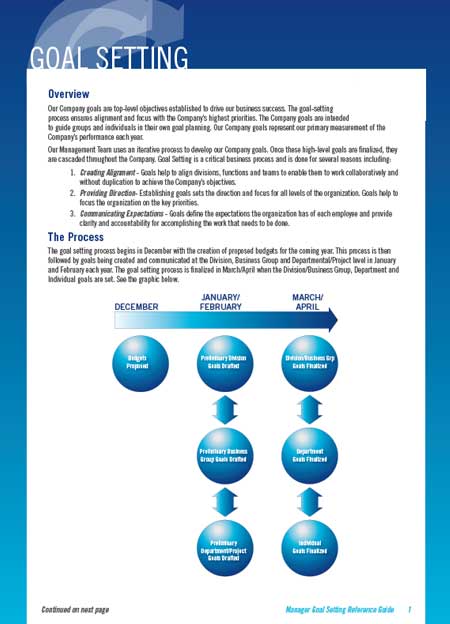 Our Learning Solution
As part of the overall learning solution we created 10 systems reference guides (one set of five for managers and a related set of five for employees); provided learning support for the new system to the Help Desk and to all employees; and developed webinars, elearning courses, and instructor-led workshops on talent management topics.
For example, one reference guide focused on employee goal setting. This document described the reasons for formal goal setting, the responsibilities of each stakeholder in the process; and a step-by-step guide to using the goal-tracking module of the new software program.
To assist our client in the implementation phase, our solution included the following services:
Working in the "producer" role during webinars, helping the presenter set up, keeping the webinar on track, and assisting the presenter with learner questions received via the chat function.
Facilitating workshops on writing and delivering effective performance reviews
Assisting with setting up and testing the elearning on the client's server.
Providing "walk-in" support to all employees during rollout of the new systems.
Improved Employee Performance
The client successfully rolled out their new talent management process and system according to plan and employees were able to use the new system effectively. As part of the onboarding process, new hires are trained with the learning solutions EnVision developed.
"In all phases of developing learning solutions for Millennium, EnVision is our "go to" organization to provide us with one-stop development support. EnVision can consistently be counted on to do outstanding instructional design work, and to find creative ways to engage our learners… They work extremely hard to understand exactly what we need for our projects and consistently go above and beyond to deliver fresh thinking and innovative ideas. EnVision has created approximately twenty different classroom, webinar, and elearning courses focused on everything from how to write performance reviews to planning for compensation; numerous job aids; and even testing scripts for new systems implementations."
— Julie Young, formerly Director of Learning & Development, Millennium: The Takeda Oncology Company, Shift Commander/CFS Cataldo Ambulance Service
No tags for this post.