Client's Business Need
Our global life sciences client, Covidien, realized a business need for diversity and inclusion. The company's HR leaders determined that they needed to change the organization to reflect more diversity, and encourage a "speak up" culture, where people would feel safe to express themselves.
Covidien identified six leadership behaviors to stimulate an inclusive culture: the sharing of ideas, team member participation, appropriate risk taking, open debate and diverse opinions, access to decision-makers, and clear measures of success. Now, the company needed a solution to ensure the learning and retention of these ideas.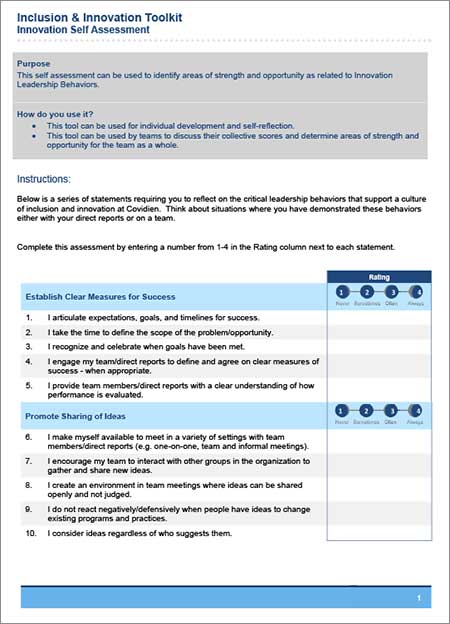 Our Learning Solution
EnVision designed a curriculum of five modules, 90 minutes each, for vice presidents to facilitate with their teams of senior leaders:
Setting the Stage for Diversity and Inclusion introduces the six innovation behaviors and the business case for inclusion. It also provides learners with an innovation self-assessment.
The Power of Perspective helps the learners to grasp another person's viewpoint, and familiarizes learners with the "Ladder of Inference," which shows that surmising something may not lead to a correct conclusion.
Creating a Learning Environment introduces the concept of the "knower/learner." A "knower" arrives at a situation with the belief "I've got the answer." A "learner," on the other hand, inquires and is curious about another's perspective.
In Collaboration the learners diagnose their team on where its members fall within the I/We/It model, where "I" represents personal engagement with the business, "we" reflects engagement with the team, and "it" corresponds to results.
Risk Taking becomes the focus for the final module, where leaders learn to recognize that trust is an essential ingredient for encouraging appropriate risk taking.
Following each module, the leaders work on an application assignment. For example, learners observe and record examples of the Ladder of Inference in action following Module 2. When the leaders attend Module 3, they begin by revisiting the application exercise and discuss their experience.
In addition to the program for senior leaders, Covidien implemented a four-hour workshop for new managers entitled Fostering Inclusion & Innovation. The six Innovation Leadership Behaviors also formed the foundation of this session. While it addresses some of the same concepts as the leader modules, its longer format allows it to be very experiential within the session.
Improved Employee Performance
Covidien successfully piloted the Fostering Inclusion & Innovation manager session. Soon after the courses began rolling out, Covidien was acquired and these courses were put on hold. To learn more, read our article published in NEHRA's Insights Magazine.
No tags for this post.