Client's Business Need
Takeda Pharmaceuticals hired Jenna* as an instructional designer in its Environmental Health & Safety Group. In this role, Jenna needed to create and update elearning courses as well as manage several projects simultaneously—skills she had just begun to develop. Because she was relatively new to the instructional design field, Takeda engaged EnVision to mentor her and build her capabilities.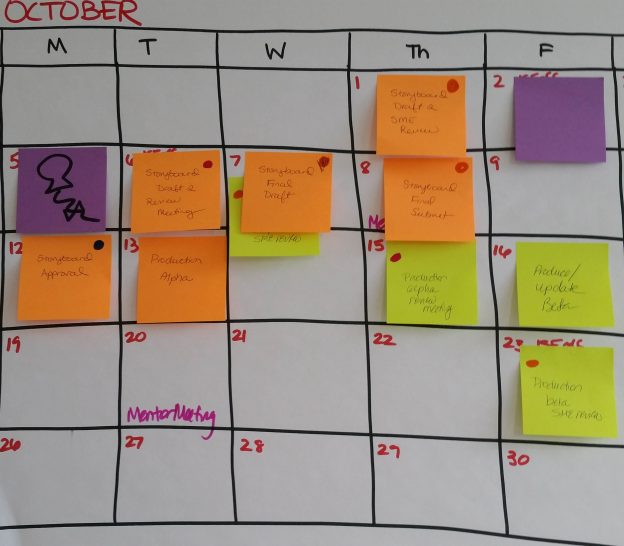 Our Learning Solution
Irene Stern Frielich, EnVision's President, mentored Jenna for ten months, meeting twice a month. In each session, Irene introduced one or more foundational instructional design concepts related to work Jenna was responsible for completing, then helped Jenna directly apply this concept to her work tasks.
For example, to develop learning assessment questions, Irene reviewed the value of writing strong learning objectives and introduced a set of best practices from EnVision's Writing Effective Learning Assessments workshop. Jenna crafted test questions for a real-life course and then incorporated Irene's feedback. And, to build her project management capabilities, Jenna learned about relevant software tools and worked with Irene to identify the tool that would best fit her needs. To learn about and reinforce the value of Gantt charts, Irene and Jenna worked together, using Post-it® Notes on flip charts.
As ten months passed, Jenna became proficient at applying instructional design, as well as project management concepts independently. She completed her initial elearning project with strong learning objectives, engaging interactivities based on knowing her target audience, appropriate test questions, and the ability to produce a course using Articulate Engage with a series of integrated GoAnimate videos.
Improved Employee Performance
During her mentorship, Jenna grew from novice to proficient in a number of areas. She can now write learning objectives at the appropriate levels of Bloom's taxonomy, develop learning and test questions that align with the objectives, and work effectively with her internal stakeholders as she creates and updates elearning courses.
Jenna's manager, Kris Evans Paull, valued her growth as an instructional design professional and ability to contribute positively to the department. "I so appreciate the breadth, depth and generosity of Irene's knowledge….my new hire went from a complete elearning novice with a lot of potential to a thoughtful elearning developer with a solid foundation of instructional design, project management and SME management skills. Best professional development money I've ever spent!"
*Confidentiality requires fictional name
No tags for this post.