Client's Business Need
Mobile Network*, a wireless network provider, sought to reduce its incident resolution times and number of noncompliant sites. Its hundreds of field operations and tower technicians often required assistance from colleagues and managers to troubleshoot calls, increasing incident response times. Though technicians were trained informally, the company lacked a consistent, formal training process for its technicians — especially as it grew.
Mobile Network had just built a laboratory for hands-on training, and wanted to create a complete curriculum with classroom and online training, instructional videos, and job performance support tools. The company also desired to update its curriculum independently.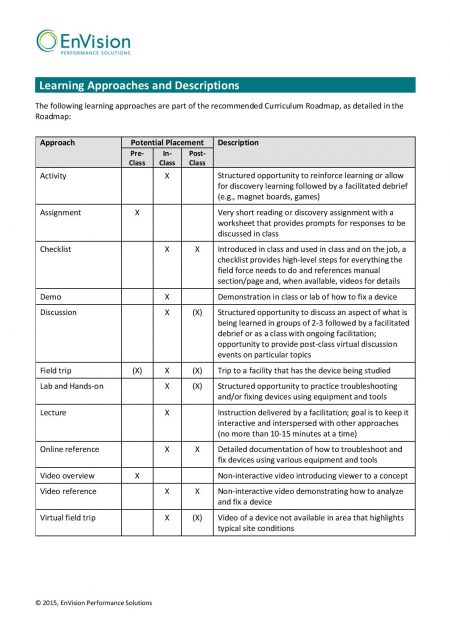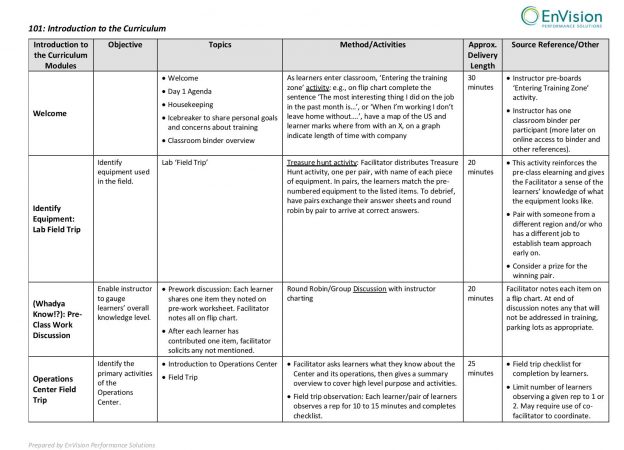 "The Curriculum Roadmap helped set the foundation as to what to build out especially with no knowledge of the learning industry…This elevated the bar for our corporate learning team. We received an award internally from HR." —Sr. Manager, Operations Training
Our Learning Solution
Before creating the curriculum roadmap, EnVision performed background research. We reviewed sample vendor training documents, interviewed the lead subject matter expert (SME), and conducted an employee focus group to help define the curriculum and determine learners' motivations and preferred learning approaches.
The curriculum roadmap needed to be flexible enough for Mobile Network's Technical Trainer to add new product information and updates, and we kept this in mind throughout the project.
As part of the roadmap, EnVision recommended learning approaches that included short assignments, learning discovery activities (i.e., games and simulations), and discussions. Then, we specified when each should occur: pre-class, during class, or post-class. We also proposed learning supports for the curriculum, like mentors and live or virtual field trips.
The roadmap described roles and responsibilities for stakeholders, and EnVision advised on strategies for management support of the training. We also proposed a multi-level evaluation plan, including suggestions for implementing each evaluation level.
The module outline comprised the largest part of the document. Each module included the learning objectives, learning methods and activities, approximate delivery length, and source reference materials.
Improved Employee Performance
The client shared that the training they delivered based on the curriculum roadmap "was received with great feedback…the feedback has been positive across the board."
For more information on curriculum roadmaps, sometimes called plans or blueprints, read our blog post.
*Confidentiality requires fictional name of client company
No tags for this post.