Client's Business Need
SciNet Pro*, a life sciences company, was struggling with their learning assessments. Required for compliance, tests were an "afterthought" at SciNet Pro. Sometimes prepared by subject matter experts (SMEs), sometimes by trainers with marginal knowledge of the content, tests were taken by hundreds of employees for dozens of online courses. Instructional designers and SMEs found they spent a significant amount of time remediating test takers with failing scores. For one topic, about one third of test takers failed the test twice before receiving a passing score. Most recently, SciNet Pro learned that regulatory agencies, such as the FDA, are looking for robust test questions, and could "write up" the company for tests that are too easy.
SciNet Pro engaged EnVision to deliver a workshop on writing learning assessments to its instructional designers and a selection of SMEs to help mitigate some of these challenges.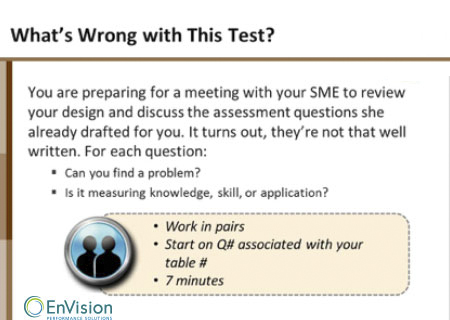 Our Learning Solution
EnVision delivered its customized, scenario-based workshop during which participants wrote their own test questions for a real learning solution. Main topics covered in the Writing Effective Learning Assessments workshop are:
Reasons to do learning assessments
When to begin writing learning assessments
Common problems with actual test questions
How to fix the questions and write questions from scratch for an actual course
Testing the test
Throughout the workshop, participants worked in small groups to write or rewrite questions, and they received both facilitator and peer feedback. The discussions helped the learners to more readily identify common pitfalls, such as questions that are too long or responses that are too obvious, and to rewrite the questions. The workshop's capstone was a "best practices" checklist to refer to at work.
Improved Employee Performance
The workshop has helped participants create more meaningful learning assessments that accurately measure learning has occurred. SciNet Pro participants in the workshop noticed concrete improvements in their training assessments following the seminar. More than one attendee cited the value of incorporating learning objectives into their test questions.
"We put the instruction from the workshop into practice right away. Definitely, it's taken the assessments in our training department to another level." —Workshop participant
*Confidentiality requires fictional name of client company
No tags for this post.