Picking the Choicest Apples in Instructional Design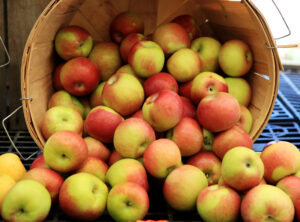 If you have ever gone apple picking, have you had the following experience, as I have? You start to fill your basket with beautiful red apples, then suddenly, too suddenly, your basket is overflowing?
When working with a subject matter expert (SME), instructional designers are often handed an overflowing basket of "apples," the core content, along with lots of other material. Sometimes, it can be "too much of a good thing." As a result, we need to guide SMEs in culling and organizing the content.
This is an important service that instructional designers perform. By culling the content, the instructional designer helps keep the client focused on the learning objectives, the most crucial information for the learner to absorb. But what are some effective ways to prioritize and arrange the learning material?
To manage the overflow of content, instructional designers can use these approaches:
A) At the very start of the project, ask the questions that lead to writing strong learning objectives. Questions might include: What is the business goal and vision? What do you want learners to be able to do as a result of completing this learning solution? Where do learners get tripped up most frequently or make the most errors in performing their jobs, as it relates to the topic at hand?
B) After formulating the learning objectives, keep returning to them as you develop the course. Ask your client questions like: How does that content support one of the learning objectives? Is that critical, need-to-know information? (If it is, but it's not in a learning objective, it's time to revisit the objectives).
As instructional designers create the learning materials to fulfill the learning objectives, we typically remove the extra content (or sometimes create a job reference tool that learners can access just-in-time). For example, in a course on how to correctly use lab equipment for sample analyses, we would not include detailed information about blood types. Similarly, it is crucial that nurses know when and how to administer a lifesaving intervention in an emergency, but they do not need to memorize every requirement of their jobs.
To aid the learners in their skill development, we arrange the content in a logical way, with each instruction building on the one preceding it. This process is sometimes referred to as scaffolding. Returning to our lab example, the learner might need to know what a specific lab item's purpose is, or which lab item to select for a given task before they learn how to use it.
While clients appreciate instructional designers for their knowledge of learning science and their creativity, instructional designers also bring prioritization and organizational skills to projects. These skills help us to build learning solutions that provide learners with focused instruction on what they need to know to do their jobs better.